For your Love
Send an I Love You picture to your love so they can color it and send it back.
For your enemies
Annoyed with a friend? Send a complex, time consuming picture to color.
For your Boss
Your Boss ask for assistance after office hours, reply to what they want with a thank you coloring page.
Unique and Original
Send secret with a coloring page
We created this special feature because many people gets job requests from their bosses in messaging apps during non-office hours. To encourage work-life balance, Color4u is the best tool to reply your bosses and make them to relax. Receiver need to color a page in order to get what they want to access, such as a link to a document.
Just like Stickers
Tons of coloring pages are desgined for expressiveness as stickers. Send it just like stickers in iMessage, and they are stickers need coloring from your friends.
Fill Level
Receiver must color at least 95% of the whole picture in order to reveal the secret message.
View Responses
Reciever must reply your message with a colored page before they can reveal the secret message. You can view how good or how bad your friends' coloring.
REUSE
Colored pictures can be reuse for different secret messages you received. Color all our pictures and get ready to reveal any secret messages
Coloring Book for Adults
Color4u is also a high-quality coloring book on mobile, including 1500+ beautiful coloring pages. It is easy and ideal for destress and relax.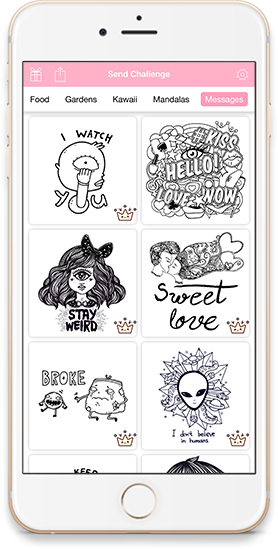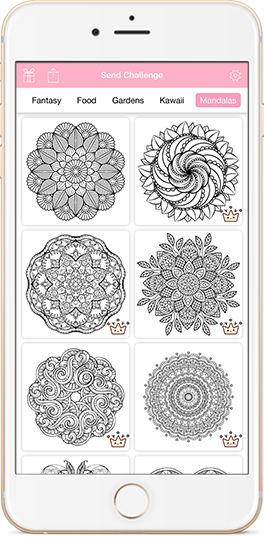 Tons of picuters
1500+ pictures and 20+ categories for your selection. Category like Kawaii, Messages, Animals, Garden and many more! Not just Manadals.
Kawaii color palettes
Kawaii pastel palettes and create your own palettes.
Post-editing effects
Post-editing effects to turn your coloring pages into art.
Color by fill or stroke
Color by tap to fill or stroke to color. You can change the brush size and opacity in stroke mode.
Pre-defined Color Palettes
General FAQ
Questions related to Color4u
Only iMessage is supported.
With the Premium subscription, you pay a low subscription fee to access all pictures and remove ads. You can try this experience for 3 days trial period.
You can cancel the subscription or the free trial anytime via the subscription settings through your iTunes account. Do it at least 24 hours before the end of the frial trial or subscription period to avoid being charged. If you want to know more about this, please read the information from the link below:
Contact Us
E-Mail: websupport @coolgamapp.com
Phone: (852) 9675-4041